Saturday, August 31, 2013
Hussman- chilling how vulnerable investors have left themselves.
pic.twitter.com/UQtv4ZQq3f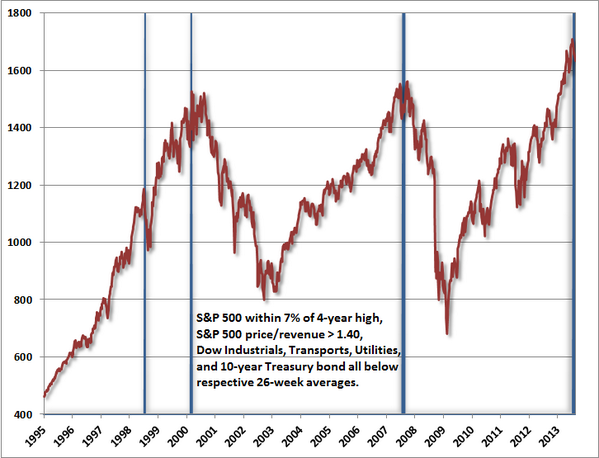 The following is from Kitco News. I have my own take and I will update you on this later this weekend.




Friday, August 30, 2013
According to
Kitco News,
gold's seasonal strength occurs in the month of September.
September is usually a seasonally strong period for gold due to buying ahead of a number of major gift-giving holidays around the world.
There is the autumn "wedding season" and Diwali festival in India, followed by Christmas and Hanukah in a number of nations, then the Chinese New Year in early 2014. Further, Indian farmers often look to gold when they sell their crop after the harvest.
All of this is especially significant since India and China are the two largest consumers of gold.
My analysis of the month-over-month returns of gold since January 2000 shows strong seasonal returns in September. More importantly, September returns exhibit the strongest seasonal month-over-month performance relative to other similar periods. Gold has gained by a median return of 3.5% month-over-month in September, which compares to an overall median return of 0.9%. Additionally, the next strongest monthly median return is 2.45 in November.
I would also point out that more times than not, gold prices rise versus the relative prices in August. By my calculation, gold prices have gained in 75% of the observed September periods since 2000. Similar to the median price gains, this batting average, if you will outperforms all other monthly and the total batting average. The next strongest month's (November) batting average appears measures in at 68% while the total batting average comes in at 58%.
The above analysis supports my view that gold prices will rise in the short-term. I intend to hold my gold and precious metal stock positions until the fundamentals turn decidedly negative and/or the timing models I employ point towards a sale.
Thursday, August 29, 2013
The hypothesis seems far-fetched in my mind, but still not out realm of possibility considering what we know of the early Mars climate in conjunction with the sharing of 'materials' between the planets.
Life on Earth may have started millions of miles away on Mars, according to scientists.
An element believed to be crucial to the origin of life would only have been available on the surface of the Red Planet.
These "seeds" of life probably arrived on Earth in meteorites blasted off Mars by impacts or volcanic eruptions, Geochemist Professor Steven Benner claims.
Prof Benner, from The Westheimer Institute for Science and Technology in the US, said: "The evidence seems to be building that we are actually all Martians; that life started on Mars and came to Earth on a rock."
More Here